The Advantages of Floor Deck Roll Forming Machine:
Zhengchuang Floor Deck Roll Forming Machine, adopting roll forming method, can produce beautiful appearance, strong panels which are extensively used in wall construction or outdoor decoration. This type machine possesses advance and innovative technology that can provide convenient roller change. This type can be equipped with PLC control and touch screen.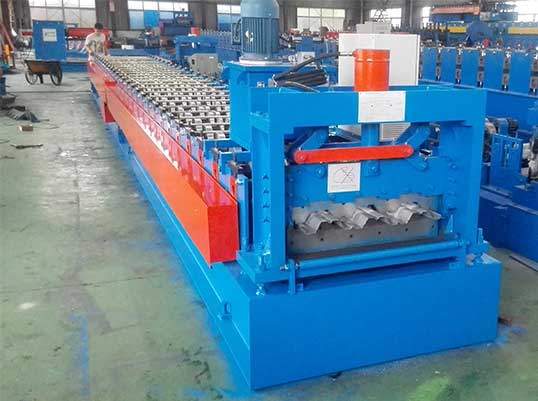 The Application of Floor Deck Roll Forming Machine:
Steel deck is a cold formed steel sheet supported by steel beams. It is used to support concrete or insulating membrane of a roof. It was developed to provide a structurally efficient product for use in roof and floor systems.
Its design and fabrication maximizes the properties of the steel in order to create a high strength-to-weight ratio, which lowers the material, handling, and erection costs but maintains the durability that has been proven by over 50 years of satisfactory performance.
Despite the fact that it is a structural component, its uniform quality can offer an attractive appearance, especially with the use of properly specified shop and field applied coatings. Steel deck is also a component of many UL and ULC approved fire rated assemblies.